How International Students are being looked after during lockdown in Northland
International directors at schools around Northland are carrying on caring for their international students from a distance. 
During New Zealand's Level 4 lockdown during August 2021, schools are talking to their students almost daily as well as sending out regular updates to the student's natural parents, keeping them informed on how the country and the school are managing the lockdown. 
Whangarei Girls High School
To keep with routine, we continue our usual Thursday morning meetings. Usually held in the international office at school, we instead just hop on zoom and meet online! To have a bit of fun with it, we have a weekly theme, play games, and get to check out each other's houses!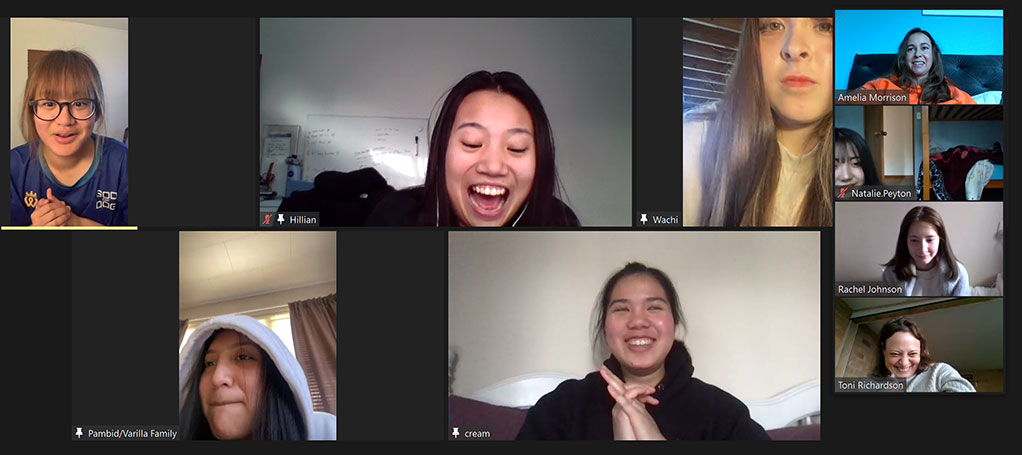 One of our students had a birthday this week so we all got together and surprised her with a birthday zoom call. We sang her 'happy birthday and got to be a part of her special day-even if it was virtually!  
"The speed of the lockdown this time around did not allow much time for planning. We did, however, have both the experience and knowledge of last year's lockdown to guide us through what our international students really want and need.  The main needs of the students were support, connection and fun!" – Amelia Morrison, International Director, Whangarei Girls' High School
Huanui College
"It is business as usual for the most part for our International students attending Huanui College.  The students are following their school timetable and zooming  with their teachers each period for online classes.  The Prefects and Whanau Leaders are creating fun games to participate in if they wish at whanau time each day to monitor their well-being. 
At the hostel of W-Education where many of our international students reside, Eric Kim and his team are providing hearty kiwi breakfasts to set them up for their days learning.  Plenty of fun in the grounds with the animals is had during the day when the sun is out. Check out the big kiwi breakfast being enjoyed by students at the W-Education hostel in the photos below." – Tracey McNamara, Huanui College
Kerikeri High School
We are carrying on caring for our international students from a distance. As well as email school work, we have been messaging in our Whatsapp group and speak with our students' host families on a daily basis. 
"I think we are lucky to have such caring host families. Living in Kerikeri, everyone has a garden and access to somewhere nice to go for a walk or bike ride from their home during lockdown. " – Jessica Donovan, International Director, Kerikeri High School
NorthTec
"NorthTec's International department is in frequent contact with our 30 international students in Whangārei. As well as receiving regular updates which are sent to all NorthTec students, the students have so far been contacted by our International Pastoral Care Coordinator on days one, three and six of the current lockdown, checking on their welfare, health and wellbeing. They are also aware that pastoral care staff are available 24/7 should they need to seek support. NorthTec's Health Centre is also available to all students for support with health and wellbeing issues." – Jon Smith, Director International, NorthTec
Read our latest news & student stories...