Learn to Swim Program for International Students
To kick-off summer Study Northland and NorthTec International combined to provide eight international students with four free swimming lessons at the Whangarei Aquatic Centre with SwimMagic Swim School. 
About two-thirds of the international students coming to NorthTec have limited swimming ability so the aim was to pilot an appropriate adult programme to teach them to have fun in the water while staying safe.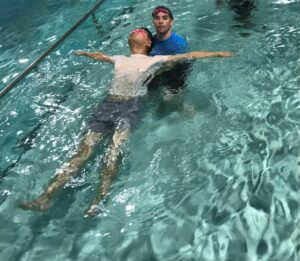 'Swimming is a life skill that helps us get the most out of the great Northland summer, safely,' says swimming instructor Ty.  'NZer's take going to beaches and swimming for granted but some of these new students had not even put their face under the water before.  First, it's about building confidence.  For those that stuck at it, there's been a massive amount of improvement in a short space of time.'
One of those that stuck at it, was Shivani Thakor. 'I couldn't believe how much fun it could be.  We enjoy just floating on the water. I want to learn more and more now.  I have even more confidence to say yes and try new experiences. We are very thankful for these lessons.'
Jesse Yang finally decided to try to learn to swim.   He had been putting it off for over the past five years since he came to Whangarei.  He was overjoyed after completing a length of the pool , jumping up and declaring he could swim! Now he says he has no excuse to say no to going on beach trips. He too would like to continue on learning swimming next year.
"Our beautiful coastlines and relaxed outdoor lifestyle are high on the list of reasons to choose Northland as a study abroad destination. Having more water confidence and swimming ability means that international students coming here at high school or tertiary level can fully embrace all the Northland experiences on offer." – Jo Lees, Project Manager, Study Northland
Overall the feedback has been very positive from Ty and the students, so Study Northland and NorthTec will aim to continue the programme in 2022 and even look to include a beach safety day and a snorkelling experience. 
More news and student stories...