Meet Student Ambassador: Kanishka
My name is Kanishka Kumar and I am a year 13 student at Whangārei Girls' High School.
I was born in India and
have been living in New Zealand for the past 12 years.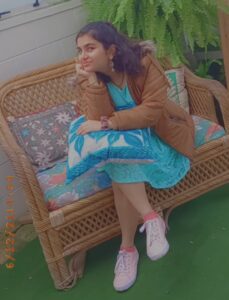 Why do you love Northland?
I absolutely love the warm weather around Northland, I am an admirer of the sun and thankfully we get a lot of it up here. This also means I can still go out in winter and have a great time with my family and friends. Even if you are new to this place, it does not take time for the atmosphere to make it feel like your home.
 
What do you love most about studying at school in New Zealand?
Honestly I love the support and opportunities that are provided to us as students. To me my favorite part of going to school is the amazing connection I have built with my teachers (some even better than friends). If you start seeing your teachers as humans it really helps you see that they are only wanting to guide you and help you not make the mistakes they once did.
There are always opportunities that you can seize, but some words of wisdom from me to study here is; everything is an opportunity but it's only up to you if you see it as one. Trying new things can be difficult but wouldn't you rather try it than regret it in the future. I feel the education system here has helped develop me as a person and so I would really recommend coming here if you want to enhance your personality too.
 
What are your favorite experiences and places to go in Northland?
As I have said I love sunny days and so what better places to go than the amazing white sand beaches. I truly admire the natural beauty Northland is locked with. On a day off you can grab some coffee and explore the amazing walking tracks this place has to offer. If you really want to know yourself, I would really recommend going out in the amazing nature this place has to offer rather than settling for a day in, watching Netflix.
 
What are your interests, sports, and hobbies?
Not many people may know but I love playing guitar, not like a professional, pretty unprofessional to be honest but I can still play tabs. Chords however are just not my thing (at least for now). I also like spending my time playing a classic game of chess or cards, listening to some old 90's songs, dancing when nobody's around and perhaps if I have more time then coming up with poetry. Being honest though most of that time is now spent watching movies, series, completing assignments, eating and sleeping.
 
What is your favorite local place to hang out with friends?
My favorite local place to hangout with friends is probably the town basin. We are pretty much 5 year olds in the body of teenagers which can be proved when you see us playing on the kids playground and arguing in a game of tag (a bit too into it).
Read more stories and updates from students in Northland...