Meet Student Ambassador: Khushi
We talked to student ambassador and Whangārei Girls' High School student, Khushi Chand about what she likes best about living and studying in Northland. Khushi moved to New Zealand from Fiji when she was in year 11.
Why do you love Northland?
I really love Northland because of its loving and caring environment. The people of Northland are really nice and exciting to be around.  Northland really reminds me of my home country because of its nature and lifestyle. It makes me feel more confident to come out of my comfort zone and socialize with people, encouraging me to learn more about other cultures. There are lots of amazing and beautiful places to visit here with friends and family.
What do you love most about studying at school in New Zealand?
I have been in high school at Northland since year 11 and it has opened me to a wide variety of opportunities and a high level of education. I really like how active and cooperative teachers are in Northland which motivates me to be more academically proactive and confident. My schoolmates and friends are really supportive and helpful, studying in Northland made me meet great people and make friends for a lifetime.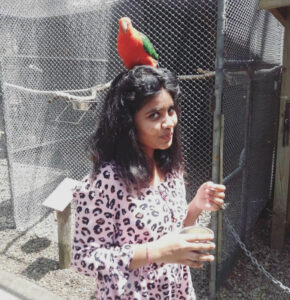 What are your favourite experiences and places to go to in Northland?
My favourite places to visit in Northland is Mair Park in Whangarei and The Parrot Place in Kerikeri because I am a huge animal and nature lover. I love being surrounded by nature and Northland is one of the best places to explore nature I feel. It provides a sense of belonging and peace. An example of this would be just talking to birds and feeding them. It just creates a huge connection between yourself and the people around you even strangers.
What are your interests, sports, and hobbies?
My main field of interest is oncology, I want to pursue a career in a field related to cancer. I love learning about how radiation treatment works and I would love to help people in need with my knowledge and understanding. One of my most loved hobby is dancing, because it makes me feel relaxed and stay fit as well. Most of all I love travelling to different places as I feel it gives great opportunities to explore places.
What is your favourite local place to hang out with friends?
My favourite place to hangout with friends is town basin because it's near to my home, so we just grab food and our pets and hang around as it is near to warehouse we usually just walk in for shopping as well. We usually visit local cafes and restaurants in town as the food in Northland is great. Most places has given me to great memories with my friends as well.
Read our latest news & student stories...