Students Meet Kiwi Up Close Before Release
Students from Whangārei Girls' High School were lucky enough to meet wild kiwi up close on Sunday before they were released onto the Tutukaka Coast.
Students not only saw the kiwi being released into new burrows but also learnt about unique features of the kiwi bird, what makes it vulnerable and how pest control and conservation work is making sure that kiwi can thrive into the future.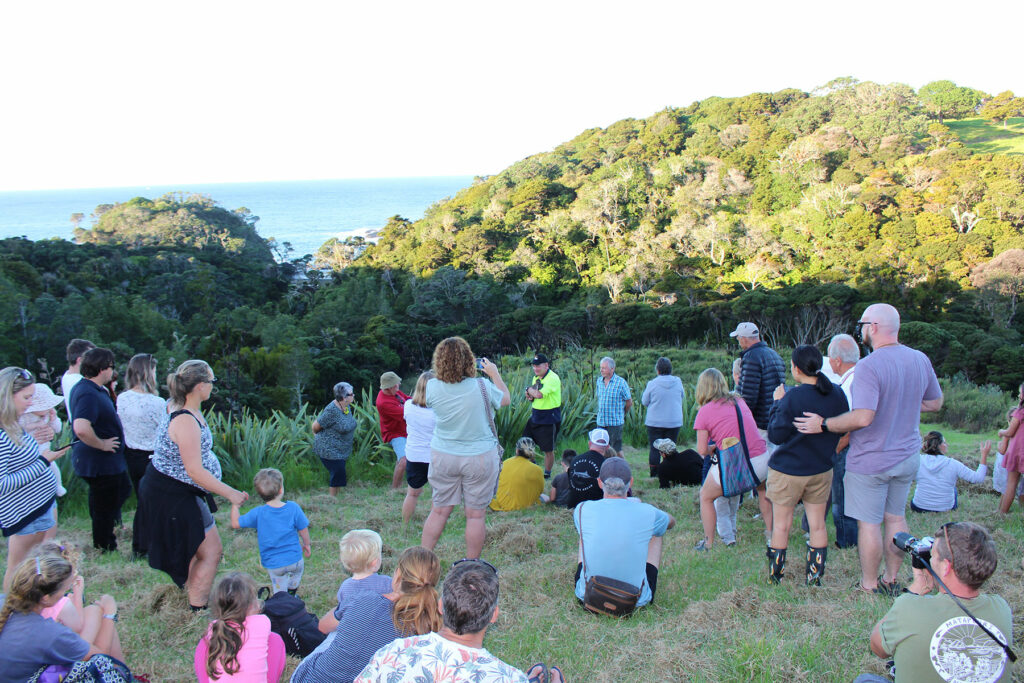 Here's what the students had to say…
"Heard interesting info about kiwis.  I enjoyed watching the kiwi being released into the burrow." – Memee
"Really good education for people that don't know how to protect kiwi.  Also teaches people how to protect kiwi properly eg. keeping dogs on leads.  Meaningful activity watching kiwis released back into nature." – Hillian
"It was good to see kiwi up close.  They were really cute in their handlers arms.  I knew alot of this stuff but it was a good revision." – Abi
Extract from Kiwi Coast article…
Four adult kiwi have made a planned escape from their managed isolation on an island in the Whangarei harbour to a luxurious lifestyle on the Tutukaka Coast. The lucky birds were welcomed to Tawapou farm on Sunday by nearly 300 visitors who had a chance to see the birds close up before they were released into the wild.
They are now part of a long-term project to enhance the local wild kiwi population under the guidance of the Tutukaka Landcare Coalition which coordinates pest control to "bring back the birdsong" over 11,000 hectares of the coast.
All four kiwi had spent time on the "kiwi creche" of Matakohe (Limestone) Island where kiwi chicks are able to develop into mature birds capable of defending themselves against stoats and cats.
Sustained pest control, and the community's commitment to excellent dog control will ensure the kiwi can thrive on the Tutukaka Coast for generations to come.
Read the entire article…
Read our latest news & student stories...