Meet Student: Yuki from Japan
We talked to Yuki, a year 12 student from Japan about living in Northland and studying at Springbank School in Kerikeri.
Yuki joined Springbank school online in April 2020 and physically in New Zealand from June 2022. 
I visited NZ for the first time in August 2019 to look around schools and decided to study at Springbank school in January 2020. I planned to fly in April, and I had a flight ticket. However, COVID-19 emerged suddenly. New Zealand closed their border and didn't accept any foreigners for a long time, which was the start of my two-year and three-month journey of online learning. 
What made you choose Northland? 
I was born and raised in Tokyo and wanted to go somewhere completely different. I rode a yacht for the first time in Northland. It was a part of the Outdoor Adventure programme uniquely organised at Springbank school. The programme gives excellent opportunities for me to experience many things that I have never done in Tokyo. 
What do you love most about studying at Springbank school?
Support, friendship, and consideration for each other are exceptional. I love Springbank's positive environment and can-do spirit. As I wrote below, shortly after my arrival in New Zealand, I had an exciting event with other senior students from Springbank school.
What are your favourite experiences in Northland?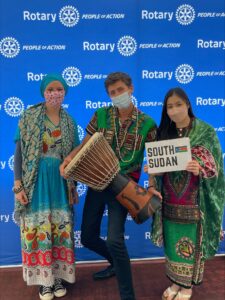 Late July, I had the very exciting opportunity to attend the Model United Nations Assembly (MUNA) with other Year 12 and Year 13 senior students from Springbank School. MUNA is a worldwide programme and we had roughly 90 teams from schools across Auckland and Northland representing countries from all over the world. Mrs Hittle, my ESOL teacher, asked me if I would like to participate. Since I had just arrived in NZ only a few weeks previous, I was told that I would be fine just standing on the stage as support without saying anything, as English is my second language. I decided to participate.
Along with my classmates, we became the delegates of South Sudan. Mrs Hittle and Mrs McAngus kindly prepared the beautiful costumes for us. We looked like local South Sudanese. Although I was told I didn't have to say anything, I did research on South Sudan. Our remits were about COVID-19 vaccination coverage and climate change. After studying South Sudan, I ended up writing both speeches. Our South Sudan team won the award for the best-dressed country! This is the second year in a row that this title has gone to a Springbank team.
Last and not least, listening to the chirping of birds makes me feel happy even when I am studying at home.
What are your interests, sports, and hobbies?
I like sports and cooking. I am a member of the volleyball club and the badminton club at Springbank school. I am also passionate about basketball. I was the captain of the basketball club in my junior high school in Tokyo. I have also learnt how to brew coffee with the espresso machine in the café at Springbank School and with the other Year 12 and 13 senior student Coffee Squad team. 
As well as how to make a kumara and mushroom pie at the Study Northland Kiwi Cooking programme. My host mother is a culinary genius. I enjoy eating as well as cooking with her. In my free time, I bake apple and banana cakes.  As well as sweet potato pies etc.  I also love playing with dogs and cats.
What is your favourite local place to hang out with friends? 
The Quay Kitchen in Whangarei is my favourite place where I can eat on the riverbank of the Hatea River. I recommend PIG OUT which is a pizza with pork belly, ham, bacon, kumara etc. My friends and I looked around Whangarei after that.  
How long will you stay in NZ?
December 2023 when I will graduate from Springbank School.  
Yuki's Homestay
Yuki's host family / parent is phenomenal.  She is a talented author who has written many fictional romance and thriller books, and is a wonderful help to her students with their English and school assignments.  She is also so lovely, kind, and caring.  She has been hosting international students for many years and loves to share her home and hospitality with International Students as her own children are grown up and have families of their own.  She hopes her International Students will become part of her extended family, and prior to Covid and Yuki joining her, her previous students lived with her for three years before they sadly had to depart in March 2020 due to Covid. 
She provides her students with an extremely peaceful and serene home which is situated in a gorgeous rural location across the road from Springbank School which enables her students to have the freedom and flexibility to participate in after school activities such as athletics, basketball, volleyball, etc.  Or if they prefer, they can catch the school bus to town after school and she picks them up from town on her way home from work.  Her home has strong "WiFi connections so her students can focus on their studies in their own quiet and peaceful bedrooms, and with their own bathroom.
Read our latest news & student stories...