Maya: My Host Sister Experience
Maya is a year 9 student at Whangārei Girls' High School. We asked her what it was like to be a host sister, after her family recently hosted Azusa, a student from Otani High School in Japan.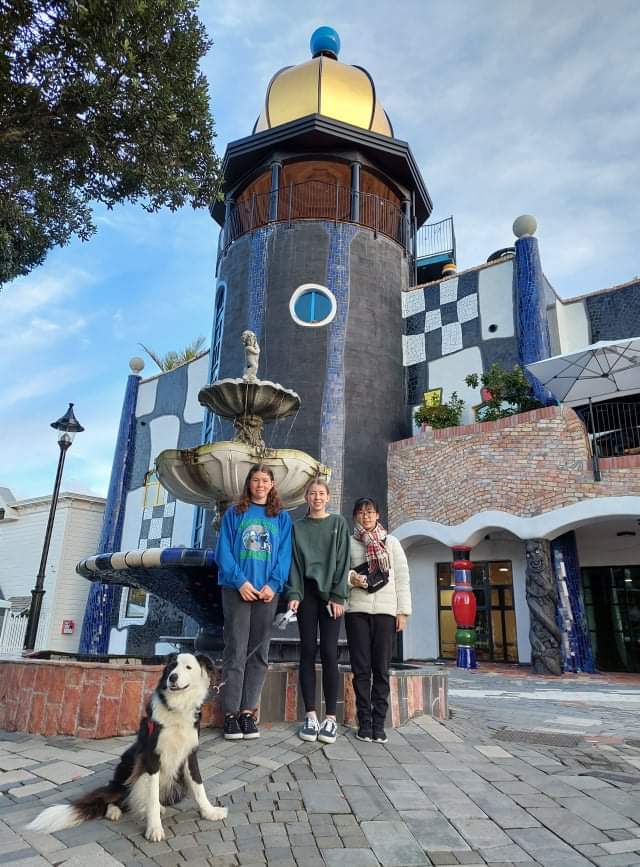 Photo of Zoe, Maya and Azusa with Dexter, the family dog in front of the new Hundertwasser Arts Centre in Whangārei.
"Having Azusa come and stay with our family for a couple of weeks was such an amazing experience, it brought new culture and routines into our lives that I'd never experienced before and offered both us and her an exciting adventure. She was such a positive person to have around and it was really cool getting to introduce her and some of her friends to Whangarei and how we do things here.
Everyday was a new experience. We learnt so many new things about Japanese culture as well as finding things that we had in common and could enjoy together. Azusa taught us how to make lots of different Japanese sweets as well as some really interesting things about writing in kanji, different new types of music and so much more. We taught her lots of New Zealand games which was interesting because of the different ways that we found to communicate the rules with each other. 
Although Azusa's English was great from the moment we met her I think it definitely developed over the 2 weeks and she really became part of the family."
Read our latest news & student stories...