International students enrolled in Kerikeri High School's Academic Plus Programmes have the chance to learn typical kiwi adventure activities including sailing, surfing and equestrian. 
They study regular classes at school from Monday to Thursday, then on Fridays they go out and participate in their chosen activity.  Training is with world-class coaches making the most of the diverse and exciting Bay of Islands playground.
Sailing Academy
Kerikeri High School has established a strong sailing reputation in recent years winning several national and international titles. Former students have gone on to compete in major world ocean races, The Americas Cup and The Olympics.
Fenja from Germany talks about being part of the Sailing Academy
Find out more about the sailing academy…
Surfing Academy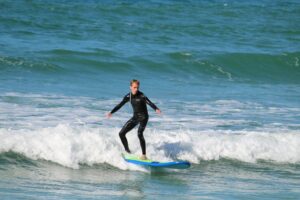 Kerikeri High School's Surfing programme provides an exciting course for all international students wanting to get in the water to surf in a fun group environment with expert instructors at some of the most beautiful beaches in Northland. They combine skilled coaches, love for the ocean and Northland's stunning locations to offer a unique opportunity.  The coaches enthusiasm, passion and love for the sport is totally infectious, they have got the surfing bug and are keen to pass it on.  The Surf Academy can cater for any level of surfer, if you have never tried surfing before, no problem, you can go from zero to hero over the term.  All equipment is provided, so all you need to bring is energy and a willingness to give it a go. 
Janek from Switzerland talks about learning to surf…
Equestrian Academy
Equestrian programme is operated by Kate's Riding Centre, Kerikeri. The Riding Centre boasts a large all weather sand arena, a smaller covered arena (for rainy days) and opportunities for farm treks over the neighbouring farm plus we aim to get everyone to a local Northland beach for a beach ride at least once per term.  You can have jumping or dressage lessons from either Kate, Tim or one of their experienced staff.  All levels and abilities are catered for.  You will have the opportunity to care for your horse every Friday; feeding, grooming, tacking up and riding.
Read our latest news & student stories...