Irene's Journey to Registered Nurse
I first met Irene as an international student part way through year 3 of her Bachelor of Nursing degree at NorthTec. She has now graduated, has a job at Whangarei Hospital as a registered nurse and was happy to answer my questions about the next part of her journey.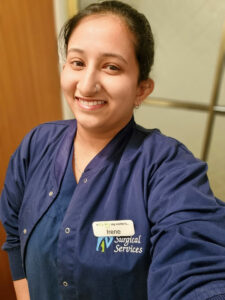 Tell me about your job at Whangārei hospital…
I work in the Surgical ward as RN. Being a nurse during this pandemic era is challenging. Hospitals are busy with overflowing patients which comes with busy shifts. However, even after a tough day, you learn something new as a nurse. You do not end your education with a bachelor's degree, in healthcare you have room for professional development every day. 
What do you love about your job?
What I love most about being a nurse is the feeling of being able to help another human being in their time of need and meeting diverse types of people in terms of ethnicities as well as careers. Being able to enjoy what you do, increases your job satisfaction. 
How has coming to Northland and completing your nursing degree changed your life?
I came to Whangārei when I was 18 years old. Back in India, I used to be very introverted and dependent on my parents. That took a whole different turn when I came here. I learned what life is and how to be independent. Many people ask me whether I regret my decision of traveling across the world to pursue nursing at this immature age? I confidently answer 'No'. It was always my dream to go abroad and study. Coming here was like killing two birds with a single stone as I was able to pursue a career and life I dreamed of. 
What advice would you give to other international student thinking about coming here?
Every decision one makes has advantages and disadvantages. You will lose something precious to gain something valuable. That is life. I appreciate everyone who decided to go abroad to continue their dreams, it is a very brave decision. One of many things that I want to say to international students that are planning to come here is to keep up their English language. 😁
New Zealand is a very friendly country and communication is vital here. You meet people on the streets for the first time, they stop and greet you, talk to you about the weather or something very random – that's how important communication is. Therefore, tighten up your English, which genuinely helps you enjoy the authentic New Zealand experience. Also, get ready to hike or have a day at the beach, cause New Zealand has a breathtaking beauty. Especially Northland is surrounded by beautiful beaches. 
Why study a Bachelor of Nursing at NorthTec…
Read our latest news & student stories...