Marika Talks to Kerikeri High School ESOL Teacher, Mr Rowe
Marika is a Japanese student studying at Kerikeri High School and is one of our 2020 Student Ambassadors.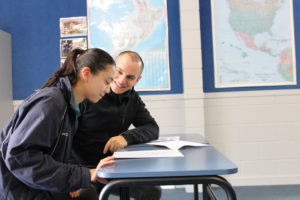 I interviewed my ESOL teacher Mr Rowe; I chose him because I think he is a very good teacher and he is one of my favourite teachers.
Mr Rowe chose to become a teacher because he feels he can learn a lot from students.  The reason he chose to teach ESOL is because he likes the cultural exposure experience.  I feel the same; as a student I can learn things that I did not learn in class by talking to the other international students outside of the classroom. Mr Rowe also says it helps him to keep his dream of traveling alive. 
What he loves the most about ESOL is the students and working with the base structure of English and seeing the results of the students' progress. 
The most challenging and rewarding thing about teaching for him is supporting the students both academically and culturally. 
Mr Rowe chose Kerikeri High School because he believes it is the best school in New Zealand and it is culturally committed to the community and shares New Zealand's values (WAKA, Whanau).
More about Kerikeri High School…
---
International students at Kerikeri High School will sit an English test on arrival during our orientation programme and  will receive specialist ESOL (English to speakers of other languages) tuition to improve their reading, writing, speaking and listening in small, friendly classes appropriate to your confidence and fluency taught by qualified ESOL and English Teachers.  With a large International Department Kerikeri High School is able to offer three levels of ESOL classes and three of English.
Read our latest news & student stories...