Student Exchange with India During Covid
Study Northland and Education New Zealand have partnered with AFS and Massey University to offer the Global Competence Certificate (GCC) as a scholarship program to Northland high school students.
Border closures have meant kiwi students have been unable to study abroad and international students are unable to study in New Zealand. It is important that while international exchange programs are on hold and international student numbers are low, students don't miss out on the critical life skills that they gain through interacting with students from different cultures and backgrounds to their own.
The content of the GCC New Zealand educational program was created as an interim solution and gives students an opportunity to become global citizens, supporting them to engage with an ever-changing world, including a range of skills to help them thrive. NZGCC teaches cultural awareness and empathy, and how to build bridges in multicultural settings. The program not only connects students in classrooms, it builds long-term links between New Zealand and the world.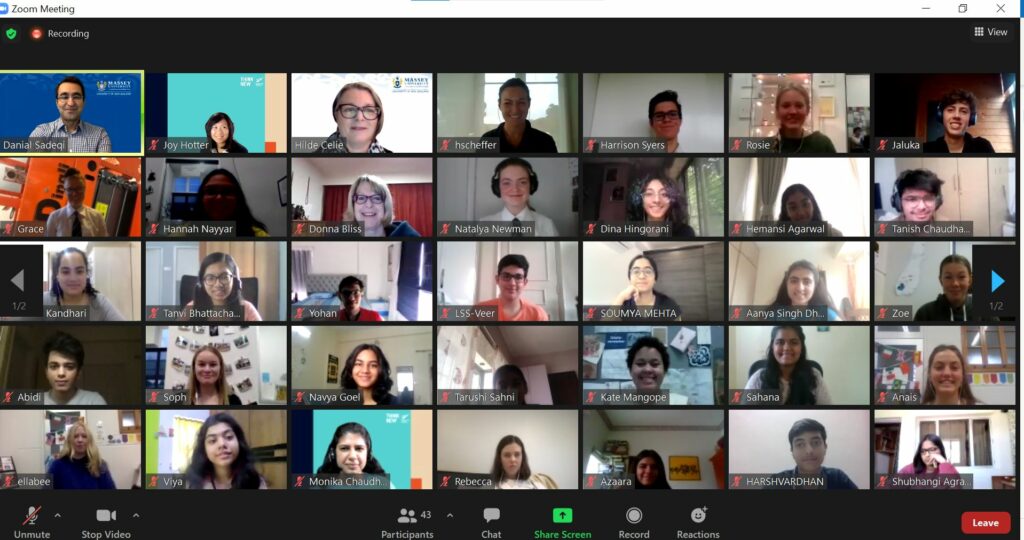 GCC Exchange – New Zealand & India
Kiwi students taking part in the GCC program shared an online classroom with students from India in lockdown in their own homes, giving them an opportunity to truly practice their global citizen skills. This exchange provided students with first-hand insight into another culture and the bonus of making new friends along the way.
15 students from Northland were selected to participate in the program. Students were from Whangarei Girls' High School, Huanui College and Springbank School. Each student participated in a four-week AFS Global Competency Certificate online program, including four facilitated sessions with Massey University lecturers. Students from both countries shared their learnings and offered personal insights into course content via the Massey facilitated forum.
Benefits for Northland Schools
Whangarei Girls High School International Director, Amelia Morrison commented; "We are so proud of our students' commitment and dedication to growing their global competence. With closed borders and no new international students due to grace our shores in the near future, it is so important that our students don't miss out on the enriching life skills that are gained when we interact and connect with people from around the globe. Initiatives like the GCC are essential to maintain and grow our global citizens so when the borders do open, we will be ready to welcome the big wide world!"
The program modules encourage students to flex their empathy muscles, think critically, and increase their own cultural self-awareness by reflecting on their own experiences.  Students learnt about communication styles, conflict resolution, stereotypes and listening styles as part of the curriculum.
Student's GCC Program Feedback
"To always treat everyone equally and to think before you speak, as things you might find funny, might not be funny for others and it could be disrespectful and hurtful" – Malindi
"Active listening is more effective than listening to respond and should be used in everyday life." – Jack
"I have learnt about the different ways to deal with conflict and did not realise how some people prefer to deal with situations directly or indirectly, or with or without emotions." – Rosie
"I've loved talking with everyone from India and learning about their culture, I've even learnt some stuff about New Zealand that I'd never really thought about and we've had a lot of laughs along the way." – Jaluka
"I learnt about understanding other people and their views, even if you may not agree with them. A cultural difference may be one of the reasons for this." – Grace
Download all GCC Student Feedback…
An online graduation has already taken place for all participating students and will be followed shortly by a graduation for kiwi students at The Orchard Business & Events Hub in Whangarei. The event will include talks by guest speakers from Education New Zealand and Massey University as well as a shared Indian dinner with a taste of Indian culture.
Global Competence – Next Steps…
This course is just the beginning for these students who have since started discussions around global competence with their whanau, friends and classmates. The program partners would love to see graduates continue to share their new skills and become role models in creating more inclusive and understanding schools and communities. There are more opportunities for Northland students coming up, including a GCC exchange with Korea in September this year.
For more information about upcoming GCC Exchanges, email Jo at study@northlandnz.com
Read our latest news & student stories...